TOTAL
MUDKIPS
SO FAR:
TWENTY ONE (21)
*notice*
There is no sign up box, to prevent non-MUDKIPs from signing up. You may request an account if you are a MUDKIP. I will create it for you, and you may then change the password.
To request an account, please
CLICK HERE
.
[Be sure to include your Mudkip name, your birth year, your gender, and your country of residence. Once I have created your account for you, I will send you the login information.]
MUDKIP LIST


Sei Yamakiri
Scheris
Rio Xeniayo
Oona Paavilainen
Mikaela Nilsson
Maka Albarn
Cayla Brown
Katherine Grace Michel
Cataclysmic Disaster
Mew Mew
Ai Hoshina
Jacob Taylor
Leanne Fai
Chris
Master Fun 101
Urahara Steph
Cerulean 15
Myrrh 25
Beako
Seabass SabSad
Anglican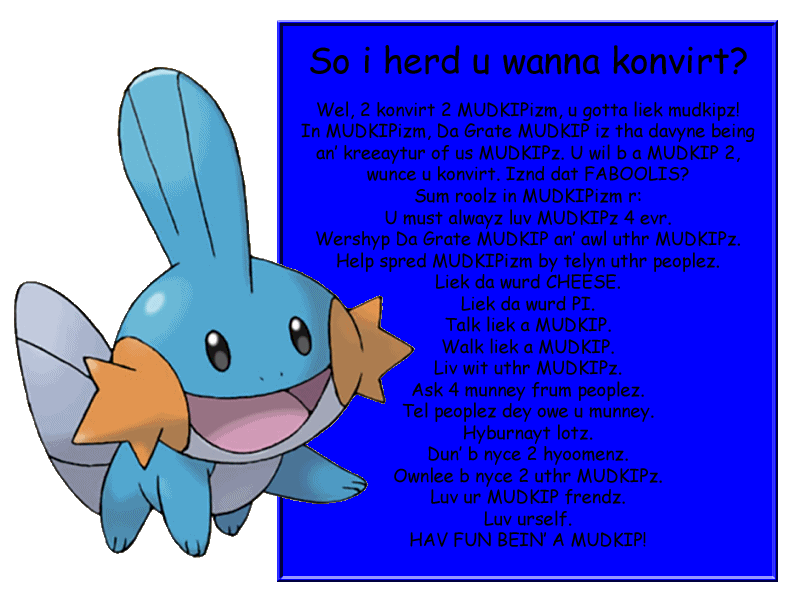 LINK BACK:


FORUM CODE (BB) WEBSITE CODE (HTML)
The Mudkipism Pledge
I hereby convert to Mudkipism, a religion in which

Mudkips rule the world. I shall become a Mudkip

and follow all the rules of the Mudkips. I swear

that if I fail to follow the rules of Mudkipism, that

I shall volunteer my head for dinner.
YourNameHere

[Be sure to replace "YourNameHere" with your name. You are allowed to use your real name, or an alias. However, it must be in a First Name Last Name format.]


Please send in your pledge, in order to complete your conversion. You may do so by clicking
this link
, which will open in a new window.